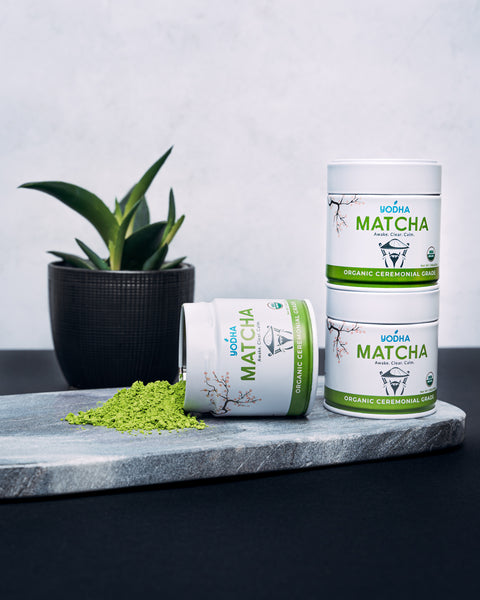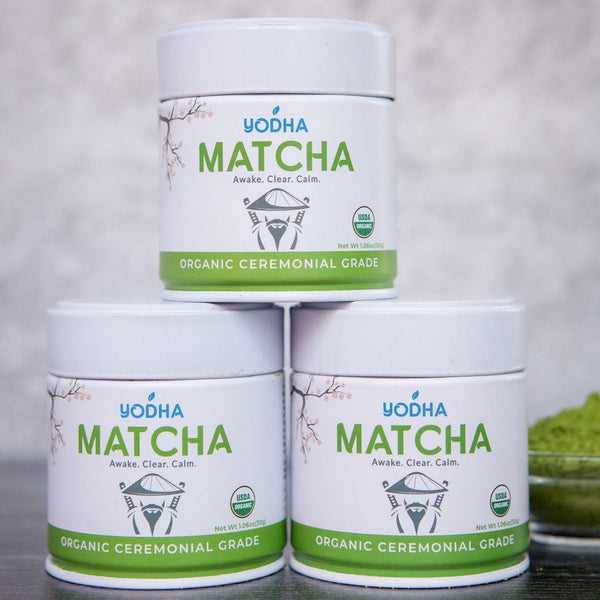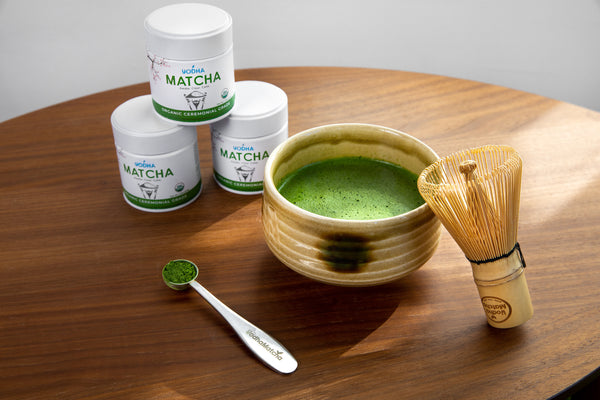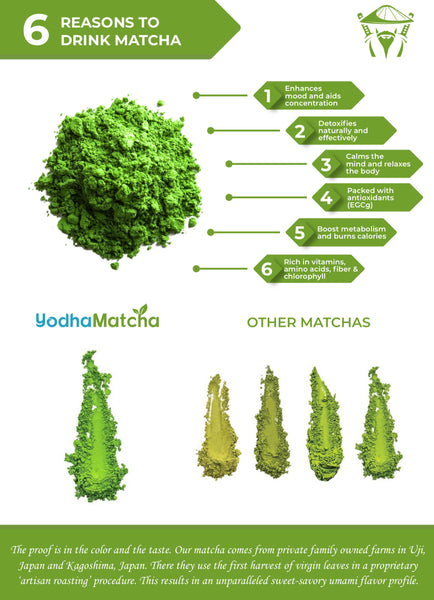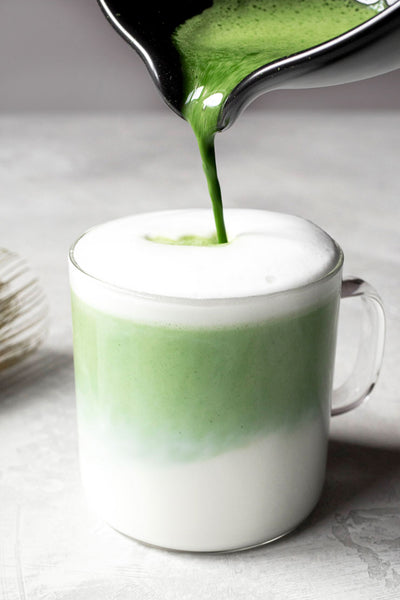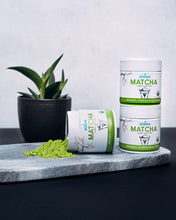 Authentically Japanese
Made in finest family farms directly in Kagoshima Japan
Energy?
Naturally contains caffeine + L-Theanine for energy without jitters
USDA Organic
Our matcha is pure and tested for harmful chemicals and radiation
Origin
Matcha was developed in Japan, and they have the highest standards for all matchas
what's special about this tea?
Matcha is essentially a superhero of all teas and energy drinks. Unlike other green teas, Matcha plants are shade grown and whisked directly into the water (no tea bags here!) to provide the highest antioxidant, chlorophyll, and theanine levels in the powder you enjoy! Our tea masters carefully select the leaves from each harvest to create a superior, well rounded flavor profile not found anywhere else. Don't worry about the fact that Samurai and Zen Monks we're drinking it 900 years ago, you're drinking it now!
Matcha Connoisseur
matcha
1g per person or 1 sachet per person
whisk
best to use a whisk
Matcha Peanut Butter Cups?
https://www.yodhamatcha.com/pages/food
we think you'll like these too
Free Shipping!
Three Tins of Ceremonial Matcha Green Tea Powder - 30g
Please Note:
One Can option comes with one aluminum Yodha Matcha Tin and 3 Yodha Matcha 30g bags.
Three Can option comes with three aluminum Yodha Matcha Tins and 3 Yodha Matcha 30g bags.  
Zero Can (Replenishment) option comes with zero aluminum Yodha Matcha Tins and 3 Yodha Matcha 30g bags.
(By choosing one container we can recycle, reduce waste, and protect our environment!)
Does NOT include: Bowl, Bamboo Whisk, or Scooper
-Contains about 25 servings per tin
-Use electric whisk to mix with hot water, almond milk, or smoothies
-Lasting energy without the jitters
-Powerful antioxidant source 
Ceremonial Grade (3 Pack) - Matcha Green Tea Powder
Do you need more ceremonial grade Matcha? Grab this set and put it on your cart!
Get three 30-gram tins that contain ceremonial-grade matcha powder. Use this grade of Matcha for drinking, flavoring, and cooking.
Other matcha powder grades have limits with the ways you can utilize them. Some classes are merely for culinary purposes, and some of them are for coloring only.
If you are looking to keep an active matcha lifestyle, this is an excellent set for you.
What is ceremonial-grade Matcha?
Historically, Japanese Zen Buddhist monks use Matcha in traditional tea ceremonies. These monks make, serve, and consume Matcha as tea in their rituals. The tea gives the monks a sense of awakeness and pleasant spirituality conducive for meditation.
In the modern world, science has proven these claims. The focused graceful effect that Matcha gives the mind is due to the tea's nutrients. We now generally know that Matcha contains a significant amount of caffeine, about 70 mg per cup.
Matcha caffeine is gradually distributed in your body, so it doesn't produce nervous and "jittery" energy given by coffee and other energy drinks. The steady release of Matcha caffeine gives a longer-lasting, gentle, and pleasant vigor that lasts longer, up to 4 to 6 hours.
The tea, thus, is highly useful and appropriate for meditation!
Also, Matcha gives people a vital amino acid known as theanine. One crucial theanine in Matcha is called L-Theanine. This compound helps your body control your stress hormones and trigger your feel-good hormones, including dopamine, oxytocin, serotonin, and endorphins. 
L-Theanine gives the mind a sense of gentle alertness, and it heightens your focus and improves concentration. These results are excellent for you as it is combined with the consistent energy provided by the tea's caffeine content.
These meditation-conducive effects of ceremonial-grade tea have been taken advantage of by the Japanese Zen Monks since way back in the 12th century and until today. The key to these benefits is how fine tea powder is produced.
How Matcha is made
The green powder comes from the same source that green tea leaves come from. The raw ingredient is the Camellia sinensis or green tea plant leaf.
The production of regular green tea involves harvesting tea leaves grown under the sun. They are then dried and then put in teabags.
Matcha production is a more specialized process, and it is why it has more nutrients and caffeine than other types of green tea.
Camellia sinensis meant for producing the green powder are shade-grown. This method of growing the plant increases its levels of caffeine, flavonoids, and nutrients.
The shade-growing gives the leaves a more pronounced taste and color and multiplies its active compounds.
Producers then stone-ground the leaves to produce the fine dust powder that we all know and love. The finest and greenest powder is graded as ceremonial-grade and is the best quality there is.
Here in Yodha Matcha, you can get the best ceremonial-grade green tea powder.
Where does Matcha come from?
Our high-quality powder is sourced from family-owned farms in Mt. Uji, Japan's foothills - we have the real deal. Workers in the farm use traditional methods of producing your well-loved green tea powder.
The proper and traditional tea-making process requires that artificial fertilizers and harmful chemicals like pesticides are not used in growing and protecting Camellia sinensis.
When you use inorganic compounds for tea plants growing, there will be adverse effects on the leaves' quality and taste and the final powdered product.
It is crucial that tea production should be done as natural as nature does it - all organic.
Organic farming does not only produce high-quality powder, but the process is environmentally sustainable.
The farmers we work with in plantations in Mt. Uji help sustain the environment by making sure that the soil they farm in is always healthy for tea plants and free from artificial and harmful substances.
We love nature, and we do our part in keeping our environment clean and green.
That is why whenever you buy our Three-Pack Yodha Matcha Ceremonial-Grade Matcha powder, we make sure to put a portion of your money into environmental advocacy. 
Buy from our store, and you will automatically help move our "Plant a Million Trees" campaign and other environmental drives.
How to use Yodha Matcha for?
The obvious answer would be that you can use Yodha Matcha for tea. However, there are other exciting and interesting applications for the lovely green powder.
Casually use the green powder to flavor and add color to delicacies like cakes, pastries, soba, mochi, gelato, lattes, pies, and other confectionery.
Matcha is today's favorite refreshing ingredient for drinks and desserts in tea shops, cafes, and food shops.
What does Matcha taste like?
Matcha has a very smooth balance of flavors and feels for the palate.
Yodha Matcha's highest-quality powder will give you lovely vegetal notes, an elegant and non-astringent bitterness, a hint of nuttiness, and a smooth and sweet aroma.
It can be described as sweet and grassy but does not taste like dirt.
Purchase Yodha Matcha now!
Add the wonderful green gift of nature to your shopping cart and have your way to a healthier and sexier active lifestyle.
Buy this set for your own use or send it to your friends and family as a gift!
Spread the goodness and of Yodha Matcha!
Here's an excellent recipe for your nutritious green powder.
How to Make a Vegan Iced Matcha Latte
Are you having a hot day? Did you just finish your daily workout? This is an excellent beverage for you!
This is a three-ingredient perfect refreshing beverage that's especially great for summer and hot days. This recipe features almond milk, ceremonial-grade matcha powder, and honey or agave. 
This is a dairy-free, vegan, and organic drink that is suited for a healthy lifestyle.
Pair this excellent drink with any snack. You can have it with cookies, tarts, and other pastries of your choice.
You can also drink it as a post-workout beverage. The green powder has the antioxidant EGCG or Epigallocatechin gallate that helps in muscle recovery.
Many athletes today switch to Matcha and avoid high-caffeine and high-sugar energy drinks. They attest to the tea's capability to reduce muscle inflammation post-training.
It is also an excellent pre or in workout drink as it has L-Theanine, an amino acid that helps you focus and concentrate. It works together with caffeine to give you a pleasant and constant awakeness that is good for people who are exercising or training.
The tea is also chock full of essential vitamins and minerals, and it is an excellent supplement for people with an active lifestyle.
It also helps your body mitigate the oxidation of free radicals that stick to your vein's inner walls and results in high blood pressure.
Make Matcha your drink of choice for a better and healthier you. Try the following recipe and taste the lovely tea for yourself and we are sure that you'll love it.
You can change some of the ingredients if you wish. This is a highly-customizable drink that you will truly enjoy and love.
Make this lovely cold drink in just six steps!
What you'll need
1 tbsp warm to hot water

1 tsp ceremonial-grade matcha powder

1 cup chilled or cold almond milk or any alternative plant-based option like soymilk

1–2 tsp agave or honey (this is optional, and you can use other alternative sweeteners like stevia, coconut sugar, 

Five regular ice cubes (you can use pre-made matcha ice cubes if you want a more pronounced tea taste)

A mason jar

A mesh strainer

A matcha whisk
What to do
Use a mesh strainer to sift your Matcha.

In a mason jar, mix the green powder with your small amount of warm to hot water.

Use a portable electric matcha whisk to stir until you produce a thick paste with no clumps

Add the cold milk and sweetener.

Cover the mason jar and shake well until everything is fully dissolved.

Add your ice and serve in the same jar or transfer to a different container of your choice.
Add our Three-Pack Ceremonial-Grade Matcha to your cart, so you don't run out of your favorite green powder.
It's the best deal!
FAQs
How much caffeine does Matcha have?
The green tea powder contains as much caffeine as regular coffee. It has about 70mg of the active ingredient per cup of drink or teaspoon of dry powder.
What are the vitamins and minerals in Matcha?
It has concentrated amounts of vitamins A, B1, B2, B6, C, E, K, and other essential compounds. The vitamins E and C are primarily known to help in preventing heart disease.
The powder contains potassium, magnesium, calcium, zinc, phosphorus, and iron. Magnesium and potassium are linked to heart disease prevention, according to studies.
How does Matcha help in heart disease prevention?
The antioxidants in Matcha help your body stop the oxidation process. Oxidation is when bad cholesterol "oxidizes" in the blood and results in free radicals to clog in your arteries and increase blood pressure.
The tea's main antioxidant is the catechin or flavonoid called EGCG or Epigallocatechin gallate, which is also an anti-inflammatory. It helps relieve inflammations and reduce pain.