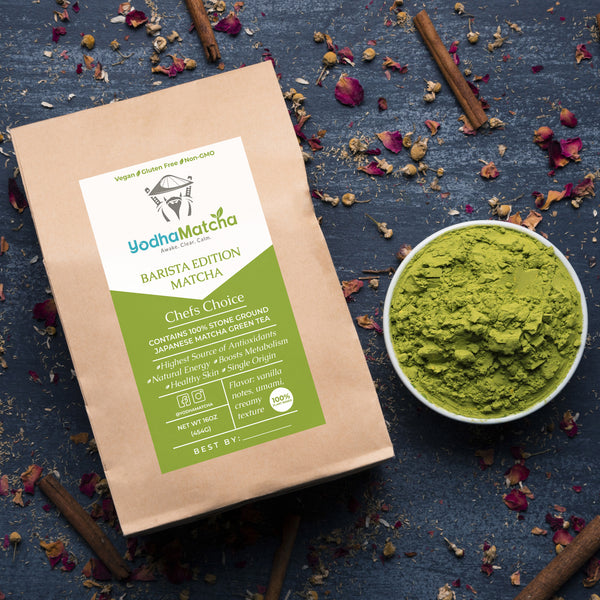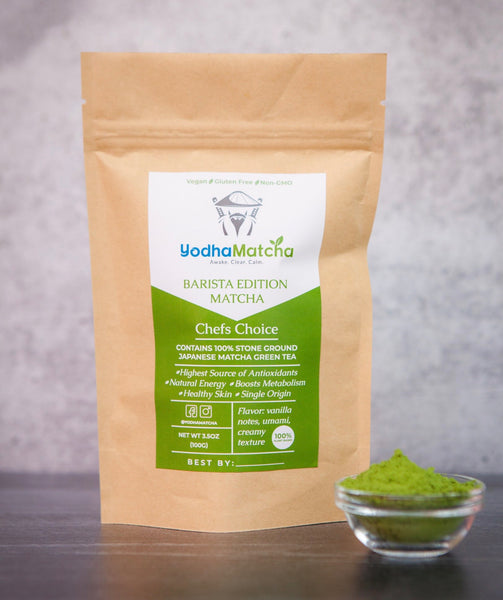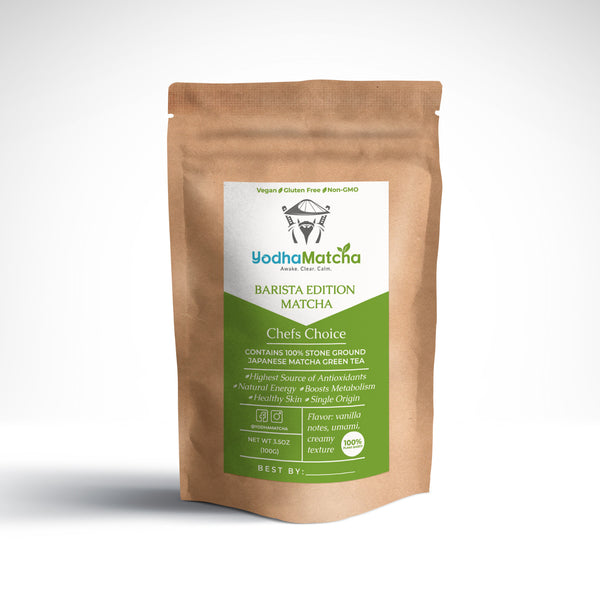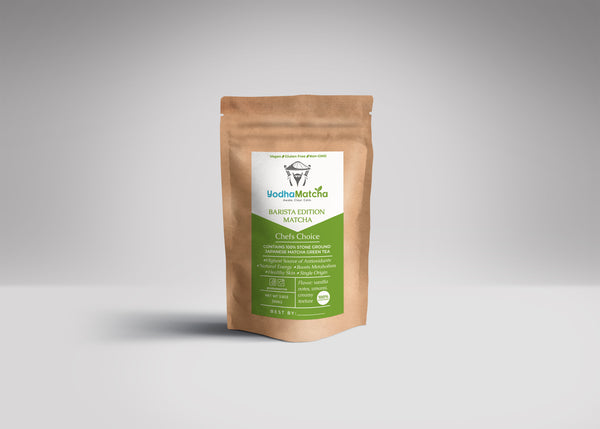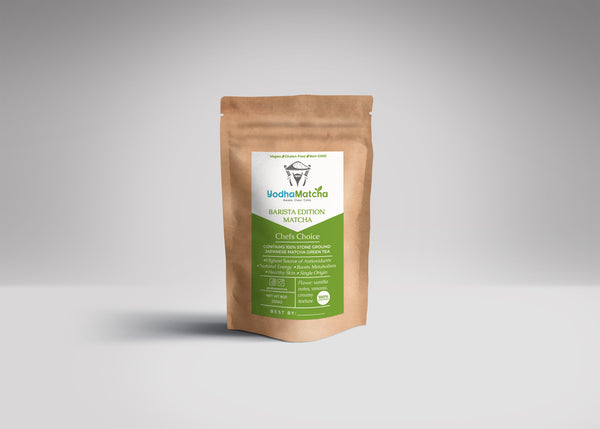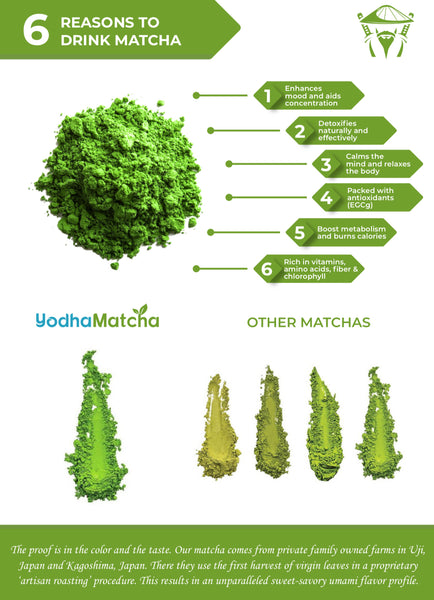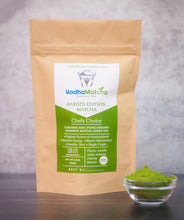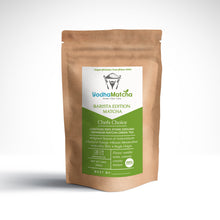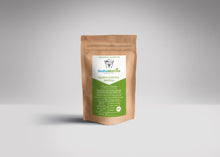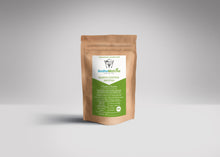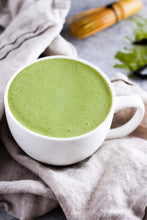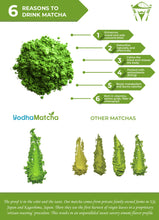 Authentically Japanese
Made in finest family farms directly in Kagoshima Japan
Energy?
Naturally contains caffeine + L-Theanine for energy without jitters
USDA Organic
Our matcha is pure and contains zero harmful chemicals and radiation
Origin
Matcha was developed in Japan, and they have the highest standards for all matchas
what's special about this tea?
Matcha is essentially a superhero of all drinks. Unlike other green teas Matcha plants are shade grown and whisked directly into the water (no tea bags here!) to provide the highest antioxidant, chlorophyll, and theanine levels in the powder you enjoy! Our tea masters carefully select the leaves from each harvest to create a superior, well rounded flavor profile not found anywhere else.
Brothers & Co-Founders
matcha
1g per person or 1 sachet per person
whisk
best to use a whisk
Matcha Peanut Butter Cups?
We have the recipe! https://www.yodhamatcha.com/pages/food
we think you'll like these too
This exquisite matcha blend comes from the best farms in all of Japan. The matcha was selected for its delicious taste, sweet aroma, and impressive vibrant color. This grade of matcha is a better solution for mixing into your morning lattes, smoothies, and other tasty drinks.
Yodha Matcha - Premium Cafe Grade Matcha Powder - BARISTA EDITION
Are you running out of your Cafe Matcha? Grab Yodha Matcha's Barista Edition Matcha to your cart!
Our 100 and 250-gram tetra packs contain chef's choice premium cafe-grade matcha powder. This tea is the best kind of Matcha for casual drinking. It's not as bitter as ceremonial-grade, but its health benefits are the same!
Use this for lattes, matcha macchiatos, matcha frappes, milkshakes, and smoothies; this is the right matcha grade for the barista you!
So if you are looking forward to getting your matcha lifestyle fix, barista-style, you are on the right page.
Ceremonial-grade matcha is best enjoyed without other ingredients. If you just need the tea for drinks, you can opt for this grade instead of the more expensive one.
What is Matcha?
As a centuries-old tradition, Japanese Zen Buddhist monks use Matcha in their monasteries. The monks prepare, serve, and consume Matcha as hot tea, as an integral part of their meditation ceremonies. Matcha gives them a sense of awakeness and calm spirituality.
Science now proves that this calm and focused effect that Matcha gives the mind has merit. Matcha has caffeine at 70 mg per cup, just like coffee, but it disperses energy differently.
Matcha caffeine releases slowly in your system, so it doesn't give you nervous energy that coffee and hyper-caffeinated energy drinks give. The consistent release of caffeine by Matcha gives your mind a longer-lasting and pleasant awakeness that lasts 4 to 6 hours, which is excellent for meditation!
Helping matcha caffeine is a vital amino acid called L-Theanine. This compound helps your body regulate your stress hormones and encourages the feel-good ones: oxytocin, dopamine, serotonin, and endorphins. The L-Theanine in Matcha gives you a sense of peaceful alertness that improves your focus and attention.
These meditation-conducive benefits of Matcha have benefitted the Japanese Zen Monks since the 12 century and until now. And, you can also have the same wellbeing with a more beverage-ready form of Matcha.
How Cafe-grade Matcha is made
Matcha originates from the same tea plant that green tea leaves come from - the Camellia sinensis plant.
Green tea production requires harvesting and drying sun-grown tea leaves and preparing them on teabags as a final product.
Camellia sinensis plants that are for matcha production, however, are grown in the shade.
Shade-growing increases the levels of caffeine, antioxidants, and amino acids in the tea leaves, giving them a more profound taste and hue. The leaves are stone-ground to a fine powder. The result is what we call Matcha and the finest and greenest powder grades top quality and sells as ceremonial-grade. Cafe grade matcha ranks third in grading but is more practical when using blenders and juicers.
In Yodha Matcha, we provide you with ceremonial-grade green tea powder and this cafe-grade barista edition powder.
Matcha is good for your health.
Because of the unique way that matcha is produced, its nutrients are multiplied. It has excellent amounts of EGCG or Epigallocatechin gallate, L-Theanine, caffeine, vitamins, and minerals.
It contains vital nutrients like vitamins A, B1, B2, B6, C, E, K, and more. Two of these are vital to the mitigation of heart disease.
Vitamins C and E help in stopping free radicals from clogging arteries and causing high blood pressure.
The powder also contains potassium, magnesium, calcium, zinc, phosphorus, and iron which are vital minerals for the body.
Magnesium and potassium have been found to play a part in mitigating cardiovascular diseases.
The tea is also excellent for mental health. L-Theanine uplifts the mood and reduces stress and anxiety.
Matcha encourages a healthy lifestyle that is active and clean. When combined with proper diet and consistent workout, you will be able to avoid most diseases and you will live a longer life.
Where do we get our Matcha?
We source all our Matcha from farm-owned plantations in Mt. Uji, Japan - the real deal. In the farms, local producers make your well-loved green tea powder traditionally.
The way our farmers make Matcha is traditional. This way means that we don't use inorganic fertilizers and harmful pesticides in growing our tea plants. Using artificial compounds in matcha production negatively affects the taste of the green tea leaves and the final product.
We keep our Matcha production as pure as nature creates it.
Natural farming makes high-quality Matcha with an environmentally sustainable process. The farms in Mt. Uji helps protect environments where farmers always keep the soil healthy and free from harmful chemicals.
When you buy our Cafe-grade Barista Edition Matcha powder, we cut a portion of your payment and use it for advocacy funds. Buy with Yodha Matcha, and automatically aid in our "Plant a Million Trees" campaign.
Buy your Yodha Matcha now!
Add this wonderful gift of mother nature to your cart and be on your way to a better and sexier life!
Get this Premium Cafe-grade Barista Edition Matcha for yourself, and your friends and family as a present!
Spread the health of Yodha Matcha!
Here's a yummy recipe for you!
Minty Ginger Green Iced Tea
This is a delectable iced matcha recipe that you can depend on to beat the summer heat. It is a sugar-free and highly fragrant beverage that will refreshingly quench your thirst.
Make this your workout drink or your snack pairing. This lovely drink will please your olfactory sense and fill you with nutrients.
It is sugar-free and high in fiber which means it will not mess with your body but rather be an excellent help.
One of the best things about this recipe is that it doesn't require the more expensive ceremonial-grade matcha. The barista edition is good enough to make this delicious fix.
We highly recommend that you take this drink as your workout buddy. Many athletes are now turning to matcha because it gives excellent energy, focus, and muscle repair.
With L-theanine that improves mood and caffeine that is properly distributed in your system, you can exercise with an excellent focus and sustainable energy.
The EGCG or Epigallocatechin gallate content of the powder helps in eliminating workout pains and muscle and tissue restoration.
It is a perfect beverage for exercising be it bodybuilding, CrossFit, endurance building, or training for sports.
This recipe in particular is the best alternative for energy drinks. Typical energy drinks are chock full of sugars and overloaded with caffeine.
These junk drinks can give you nervous energy that easily crashes requiring you to drink more. You already know what can happen when you abuse sugar and you don't want to acquire diabetes.
Caffeine abuse can also lead to many neural adverse effects that you want to avoid.
Stop drinking these unhealthy drinks and replace them with this cleaner beverage that will do the job even better.
Have a minty ginger green iced tea.
What you will need
3 tsp of Premium Cafe-grade Barista Edition Matcha

5 cups of water

1-inch piece of ginger (Have a little more for garnish)

2.5g of mint leaves (Have some more for garnish)

Electric matcha whisk

Fine mesh strainer
How to make the drink
Boil three cups of the water. 

Put it aside for a minute.

Sift the Premium Cafe-grade Barista Edition Matcha powder and whisk to incorporate.

Set the matcha mixture aside.

Heat up the remaining cup of water and add in the ginger and mint leaves.

Set the spice water aside to cool.

Remove the ginger and mint leaves.

Store the tea mixture and the ginger syrup in the fridge.

When serving, pour the prepared tea in a glass and use the ginger syrup to spice it

Garnish with grated ginger and mint.
FAQs
What are the different grades of matcha green tea
Premium grade is the everyday-use type that pairs excellently with blended beverages.
The Cafe grade type has a more robust flavor and it is perfect for baking and cooking.
Ingredient grade is usually mixed with older tea leaves that possess stronger flavors. This grade helps give beverages a thicker consistency which makes it ideal for recipes that involve dairy.
Kitchen grade is made with less delicate leaves and it is not as fine as other types. It is colored a darker green and is significantly bitter. Its characteristics make this grade ideal for large-scale brewing or experimenting with new recipes.
The classic grade is the most common type. It has a bold flavor which is great for numerous food and beverage recipes.
How does matcha help in weight loss?
Matcha is capable of helping your immune system, aiding in the control of stress levels, and assisting in weight loss. The compounds of the tea work as fat blockers.
Its EGCG or Epigallocatechin gallate aids in metabolism and stops the growth of fat cells.
What does matcha do?
The green powder has high levels of catechins and flavonoids. One of them is EGCG or Epigallocatechin gallate which is an antioxidant that can aid the body to mitigate carcinogens.
Studies have found a link between green tea and a variety of benefits for human health. This includes the prevention of cardiovascular disease, type 2 diabetes, and cancer.
EGCG stops the oxidation process that releases free radicals to clog your bloodstream and cause high blood pressure.